Buy & Rent Shipping Containers in Nashville, TN
Why Don't We Make You Call for a Shipping Container Quote?
We know what a hassle it can be to call for a shipping container quote, as well as how annoying it can be to fill out a form on what appears to be a conex container rental site and consequently be bombarded with salespeople from third-party companies because your information was sold as a lead. Unlike the big guys, we offer shipping containers for sale online with prices posted on our website. Why do we do this when other companies won't? Simple, we know our prices are fair, and well below what you'd see with our large corporate competitors.
Western Container Sales will get you a fair price for a used shipping container sourced directly from global intermodal equipment providers, pulled from their inventories at your nearest intermodal depot. Because the containers were recently moving cargo, we know they won't leak and we guarantee it. Check out our current shipping container prices (please note they do change with inventory levels). We also make renting steel storage containers just as easy, with our online rental order form.
Shipping Container Rentals in Nashville, TN
Not ready to buy? We offer steel storage container rentals nationwide, starting at $145/mo (3/mo. minimum, month to month thereafter). Delivered in 2-5 business days, our portable storage containers include a secure lockbox.
How do you buy shipping containers in Nashville, Tennessee?
Not sure how the process works? Watch this video to better understand where the shipping containers come from. And be sure to check out the sample photos before you buy.
You Choose Container Specs
Using our shipping container calculator to select the size, condition, and door direction that meet your needs, then add your selections to the cart and checkout in our secure payment portal. Make sure to check out the sample photos before you buy. Your container is guaranteed not to leak and comes with a 30-day money-back guarantee (less trucking costs). Every container we sell is also backed by our three-year warranty.
We Source Your Shipping Container
Then we source your shipping containers directly from intermodal cargo circulation. We work directly with the largest intermodal container suppliers, so you avoid paying unnecessary middlemen. After your order is placed, you'll receive a confirmation email. You then get the next container off the stack that meets your criteria. We guarantee the doors, floors, and roof (but not the cosmetic condition). Color cannot be selected.
Pick-up: 2-3 Business Days
Delivery: 4-7 Business Days
After you order, we'll be in touch within one business day to confirm your order and coordinate the logistics. To ensure everyone's safety, only customers with the proper equipment should select intermodal depot pick-up (please allow 2-3 business days for release information). Delivery is optional and calculated at checkout by zip code. Contact us with any questions, we're always happy to help.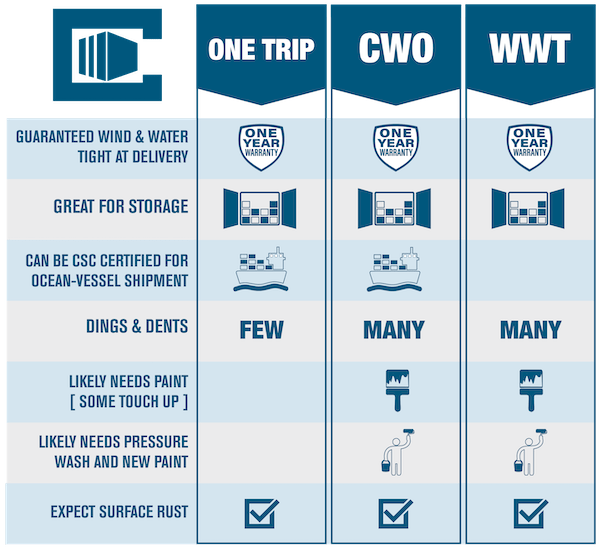 Used Shipping Container Conditions
Used shipping containers come in a wide variety of conditions. The most common are One Trip, Cargo Worthy (CWO), and Wind & Water Tight (WWT). There are also "As Is" Containers, which we do not sell because they are usually damaged, and thus cannot be guaranteed. As well as containers repaired to IICL (Institute of International Container Lessors) standards.
While we don't offer IICL containers as an option, we do sometimes sell IICL condition containers. Our experience has been that containers repaired to IICL standards are in excellent structural condition, but don't look cosmetically different than CWO or WWT containers (and, due to dents often being patched/welded instead of simply pounded out, IICL containers can sometimes look less visually appealing than their wind and water tight or cargo worthy counterparts.
Please Note: All used containers will have rust/dents. Make sure to check out the sample photos prior to making your purchase. No matter the grade, every container we sell is guaranteed to be structurally sound and comes with our three-year warranty.
Shipping Container Images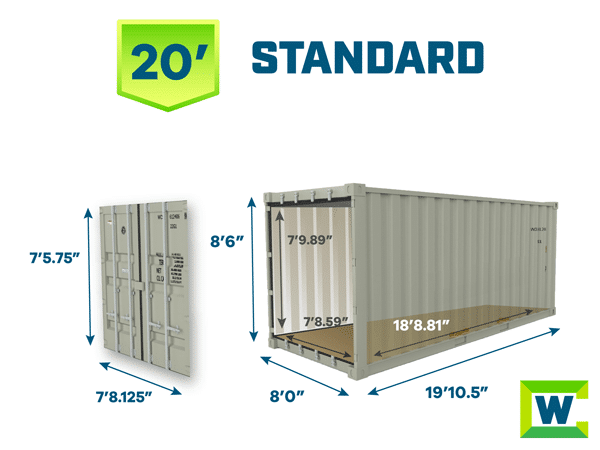 Shipping Container Dimensions & Specifications
You can find the internal and external shipping container dimensions for every size container we sell on this page. There's also more information about shipping containers, for instance, what's listed on intermodal shipping container doors is standardized so that the container can be handled at any port in the world. From the manufacturer information on the CSC plate to the size & capacity information, to the container identification number, everything is standardized on a shipping container. Furthermore, to ensure the same equipment can safely handle the containers anywhere in the world, shipping containers are held to a very specific set of specifications and dimensions.
The Trucks are Big and We Need Plenty of Space to Deliver a Shipping Container
We need 80′ of additional space in order to deliver a 40′ shipping container (120′ of total space), plus room for the truck to maneuver. Please make sure you've got space for delivery.
There are a few things to consider before you order a container, the most important is to be ready for delivery. We deliver containers on a roll-off trailer, so you won't need a forklift or a crane to unload at delivery, but you'll need to make sure you've got enough space for delivery and that your site is ready for the truck.
How Do Steel Storage Containers Compare to PODS?
The largest nationwide portable storage company is PODS (Portable On Demand Storage). While both PODS and Western Container Sales offer nationwide portable storage rentals, there are some key differences.
Primarily that PODS containers are smaller, lighter units that are made from a combination of steel, fiberglass, aluminum, and plastic, and designed to be moved while loaded. In contrast, our rentals are re-purposed used shipping containers (all steel construction, with wood floors over steel cross members). Overall, steel shipping containers are a larger and heavy-duty alternative to standard PODS storage containers. PODS now offers an all-steel 16 ft container.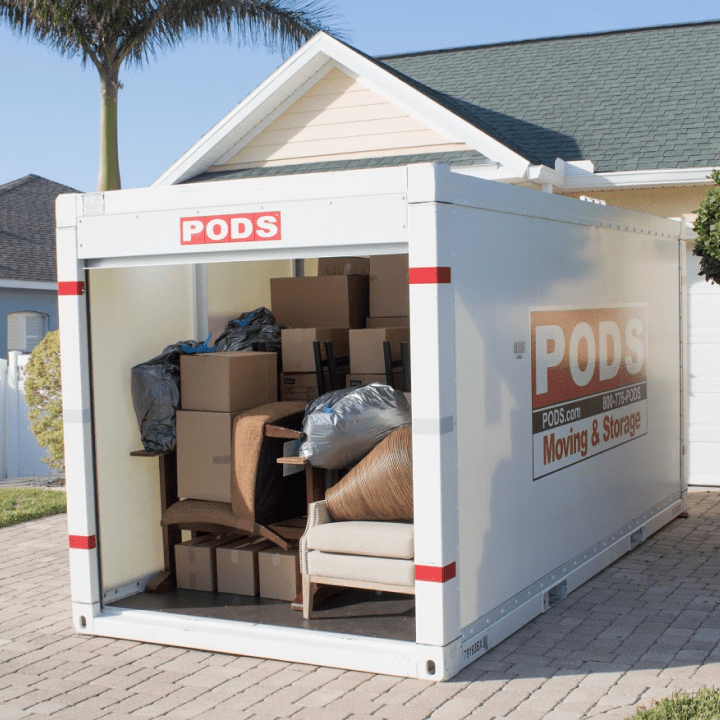 Get a 10% Discount with PODS
We don't offer moving service, but we've partnered with PODS to offer their services to our customers that need moving and storage. Use the link below to get a 10% discount with PODS.
Where to Find Shipping Containers near Nashville, TN
We Deliver Within 150 Miles of Nashville, TN
We work with local haulers that have roll-off trailers to coordinate your delivery. Because of the specialized nature of the equipment needed to offer ground-level delivery of a shipping container, the hauler isn't usually able to find a backhaul. Because of that, the driver needs to be able to get out and back within their logbook hours, and this means we're not able to offer delivery beyond 150 miles for purchases or 75 miles for rentals.
Delivery Cities Include:
Nashville, Madison, Whites Creek, Brentwood, Antioch, Hermitage, Old Hickory, Goodlettsville, Hendersonville, Joelton, Franklin, Pegram, La Vergne, Mount Juliet, Ridgetop, Nolensville, Ashland City, Greenbrier, Kingston Springs, Smyrna, Gladeville, Arrington, Pleasant View, White House, Gallatin, Fairview, White Bluff, Murfreesboro, Springfield, Chapmansboro, Cottontown, Thompsons Station, College Grove, Lebanon, Cross Plains, Burns, Charlotte, Cedar Hill, Eagleville, Portland, Norene, Castalian Springs, Rockvale, Lascassas, Orlinda, Spring Hill, Southside, Adams, Primm Springs, Santa Fe, Clarksville, Bon Aqua, Mitchellville, Dickson, Bethpage, Watertown, Chapel Hill, Milton, Columbia, Lyles, Cumberland Furnace, Cunningham, Vanleer, Hartsville, Christiana, Auburntown, Unionville, Slayden, Westmoreland, Readyville, Fosterville, Williamsport, Riddleton, Bell Buckle, Brush Creek, Gordonsville, Palmyra, Alexandria, Duck River, Dixon Springs, Carthage, Nunnelly, Lewisburg, Woodbury, Hickman, Woodlawn, Beechgrove, Liberty, Bradyville, Erin, Cumberland City, Lafayette, Mc Ewen, Shelbyville, Dowelltown, Hampshire, Elmwood, Pleasant Shade, Mount Pleasant, Culleoka, Centerville, Lancaster, Wartrace, Chestnut Mound, Indian Mound, Only, Belfast, Buffalo Valley, Lynnville, Silver Point, Granville, Tennessee Ridge, Smithville, Hurricane Mills, Normandy, Cornersville, Red Boiling Springs, Waverly, Summertown, Petersburg, Manchester, Summitville, Big Rock, Bloomington Springs, Morrison, Hohenwald, Baxter, & more.
Delivery Zip Codes Include:
37201, 37238, 37242, 37235, 37244, 37219, 37213, 37222, 37224, 37227, 37230, 37232, 37234, 37236, 37241, 37246, 37250, 37229, 37243, 37202, 37203, 37208, 37240, 37228, 37206, 37212, 37210, 37204, 37216, 37207, 37214, 37205, 37215, 37220, 37116, 37218, 37211, 37209, 37115, 37217, 37189, 37024, 37011, 37076, 37138, 37027, 37070, 37013, 37221, 37077, 37072, 37080, 37069, 37143, 37089, 37086, 37075, 37122, 37152, 37135, 37065, 37068, 37067, 37015, 37073, 37121, 37082, 37167, 37071, 37014, 37146, 37064, 37188, 37066, 37062, 37187, 37129, 37172, 37035, 37048, 37179, 37046, 37088, 37049, 37029, 37087, 37090, 37036, 37032, 37128, 37060, 37148, 37136, 37031, 37153, 37131, 37133, 37085, 37141, 37174, 37130, 37132, 37171, 37010, 38476, 38482, 37043, 37025, 37119, 37056, 37022, 37184, 37034, 37127, 37118, 38401, 37098, 37051, 37055, 37052, 37181, 37040, 37074, 37037, 37016, 37180, 37165, 38402, 37186, 37149, 37063, 37044, 37041, 38487, 37151, 37020, 38547, 38563, 37142, 37012, 38454, 37042, 37057, 37030, 37137, 37091, 37190, 38567, 37191, 37018, 37095, 37026, 37061, 37050, 37083, 37101, 37162, 37161, 37160, 37059, 38461, 38560, 37145, 38474, 38451, 37033, 38569, 37183, 38552, 37079, 37140, 37019, 38548, 38472, 38582, 38564, 37178, 37166, 37078, 37360, 37047, 37150, 37185, 38483, 37144, 37355, 37382, 37023, 38545, 37357, 38462, 38544, & more.