10 Things to Know Before Buying a Shipping Container
01 Used shipping container prices have more to do with cargo volumes than end-user demand to buy a storage container.
Shipping containers are a byproduct of a much bigger industry, and the price of used shipping containers in places like Long Beach or Houston is impacted more by cargo than by end-user demand for people that need to buy shipping containers for storage. 
Steel shipping containers are extremely durable, so it wouldn't make sense to just scrap a large portion of them due to a trade imbalance. Usually shipping lines will use a container for 12+ years before taking it out of their fleet.
We buy containers directly from those shipping companies and intermodal equipment firms and offer them to our customers at a wholesale price.
02 All used shipping containers have rust and dents, but steel shipping containers are very durable.
Containers get banged around when they're loaded and unloaded at ports or stacked at the intermodal depot. The largest container ships in the world now hold over 20,000 TEU (twenty-foot equivalent units). It's unlikely that you'll load that many containers onto a ship without occasionally banging them into one another.
All used containers have rust and dents. Period. However shipping containers are now made from Cor-ten steel which ensures they'll be durable and won't cause damage to cargo.

Containers are certified for shipment with CSC surveys. When those surveys expire, sometimes shipping lines and intermodal equipment firms opt to just sell the container where it sits. A container that is no longer certified to have over 300,000 pounds of cargo stacked on top is still great to use for storage.
Don't get hung up on rust and dents on a used shipping container. If you're worried about the appearance of your container, we recommend pressure washing it and painting it after arrival or buying a one trip (like new) container.
03 You can't just walk into the port and buy a shipping container, and most of the containers at the port aren't for sale.
The shipping containers you see stacked up at the port or rail terminals are usually loaded with cargo and only a small percentage of them are available for purchase. Additionally, the port or depot doesn't own the container, they're just storing it for a shipping line or intermodal equipment leasing firm.
Most of the companies that actually own the shipping containers are based in Asia or Europe. We leverage our relationship with global container providers to help our customers buy shipping containers in the US & Canada.

We've even sold used shipping containers to the Port of Houston Authority that were already at the Port of Houston.
04 Make sure to buy from a reputable shipping container sales company; there are a lot of amateurs out there.
Over the past few years there's been an increasing number of people selling shipping containers in places like Facebook Marketplace, Craigslist, and by paying Google to show up in your search.
In most cases it's a commission-only sales rep posting the ads and fulfilling the order through a company that hasn't been around for very long. Because of the high churn rate for those commission-based salespeople, they're often times inexperienced and don't understand how everything in the industry works.

We have a highly professional sales and operations team, and our company has been rated A+ from the Better Business Bureau since 2017 (our first year eligible, after being founded in 2015). None of our employees earn a direct commission on your order, and we just want to make sure you get the right container for your project.
We understand that there are occasionally companies that offer lower prices than we do. But if a company's warranty is longer than they've existed as a business, what are you really buying?
05 The reason you don't see that many container homes is because it's really expensive.
Usually a shipping container home is more expensive than a traditional home. Even though you might save a little on materials, you still need to add plumbing, electrical, insulation, windows, doors, and more to make it live-in ready. You'll also be doing a lot of cutting and welding.

Converting one shipping container into something like a jobsite office or ticket booth works well, but a 40ft container is only a little over 300 square feet so usually you're combining multiple containers together to make a single home. There are companies out there that make great container cabins and homes from single containers, but be aware that the cost of the container is going to be less than 10% of your total building costs.
06 Unless you're using your shipping container for export, there's not a lot of sense in spending the time and money to have it surveyed.
We've seen people online recommend having your container inspected to ensure it's in good working condition. This seems like a waste of time and money to us and is only really necessary if you're buying from someone who might not be reputable.
If you need your container surveyed for export we're happy to arrange that. This is an unnecessary expense for customers that will be using their container for storage purposes.

Completing a CSC or IICL inspection of your container means hiring and scheduling a third-party surveyor. Doing this usually adds 3-5 days to your delivery schedule. If you're not exporting the container the survey you paid for is more or less worthless.
We guarantee every container we sell will be structurally sound and free of leaks because we source our containers directly from reputable global suppliers. Less than 1% of our customers ever need to utilize their warranty because we make sure our customers are getting quality used shipping containers.
07 Shipping container conditions are used to determine cargo-worthiness for shipping lines, and don't mean anything about how a used shipping container will look.
The difference between CWO (cargo worthy) and WWT (wind and water tight) used shipping containers is that one can be stacked while loaded on a cargo ship and one cannot without a survey (and potentially minor repairs) being completed. Neither will leak, but there is no cosmetic difference between CWO and WWT shipping containers, it's just a shipping readiness classification.

Containers that are rated up to IICL (International Institute of Container Lessors) standard are not going to look any better than WWT or CWO containers. They're just going to be ready for export cargo. In fact, because IICL places limits on things like the size of dents on container sidewalls, sometimes IICL containers will have big rusty patches all over them. The shipping line doesn't care about cosmetics, they just care that the container will keep their cargo dry.
08 It's rare that a shipping container will be scrapped. The trade imbalance means some of the containers that come into the US & Canada get sent out empty and some are sold to companies like ours.
More shipping containers come into the US & Canada than are sent back out, but that doesn't mean that the balance of containers are scrapped. Most of the inbound containers are loaded for export, some are sent back on the ship empty, a small percentage are sold as storage containers, and some of the damaged containers are scrapped.

The useful cargo life of a shipping container is well over a decade. It doesn't make sense to throw away a container after each use if there's a way to reposition the container to a port where it can be better utilized. Most of the containers that are scrapped are in "as is" condition and usually have significant damage. People that tell you repurposing shipping containers is a "green" solution probably just don't understand the actual lifecycle of a shipping container.
09 It doesn't matter if your shipping container is perfectly level, but it does matter that the doors are square (or they won't open and close properly).
If you're purchasing a shipping container for storage, you'll need to make sure it's sitting on the ground at your site the same way it would rest on a chassis. Not every warehouse parking lot is perfectly level, but every chassis trailer is square. Making sure the frame of your container is square goes a long way in ensuring your doors will continue to open and close properly.
We recommend using 8ft long 4×4's under the door frame and bulkhead end of the container. When containers are stacked on ships or loaded onto chassis trailers, they rest only on their corner castings. This means you probably won't need additional 4×4's anywhere other than the door and bulkhead.
If you've got enough space for the truck to maneuver at your delivery site, our haulers can drop the container within a few inches of where you place the 4×4's. Keeping the container elevated will also prevent standing water from rusting out the steel cross members under the container floor.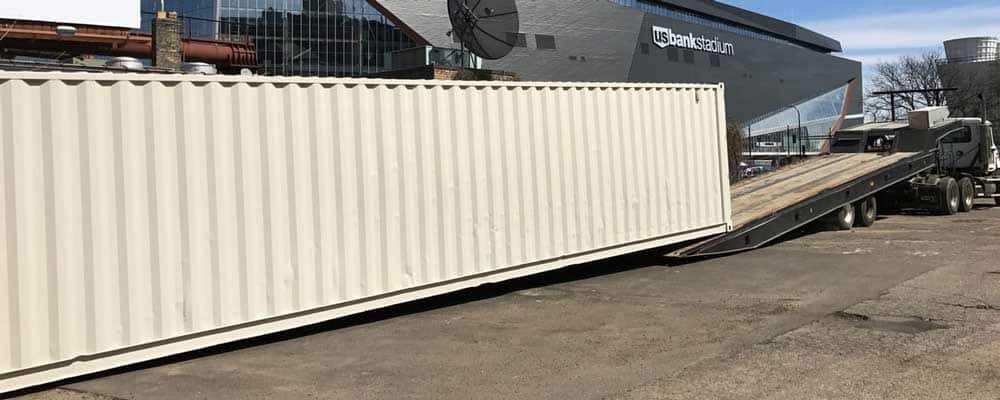 10 Make sure you have enough room for both the shipping container and the truck that will deliver it.
The truck that delivers the container will be significantly larger than the container. For us to safely deliver your container, we'll need space for the truck to be fully extended in front of wherever the container will be dropped.

We need about 55ft of additional space to deliver 20ft containers (75ft of total space), and 80ft of additional space to deliver 40ft containers (120ft of total space). We outsource our deliveries to professional hauling companies with roll-off trailers so we can place the container directly onto the ground at your delivery location. Making sure you've got plenty of space for the truck to safely deliver before placing your order will ensure your shipping container delivery goes smoothly.